We're Back! Join us at Mike Weir Park in Bright's Grove for our 35th Annual event!
Since 1987, the "Boys' Home Run" has been a feature of Bright's Grove every Father's Day. It has grown to include a 10k timed road race, a 5k timed run, a 5k walk, a 7k rollerblade, 7k, 20k and 40k bicycle rides, and free onsite fun for children 4 - 10 known as Jr. Adrenaline Trail. All participants get a free pancake and sausage breakfast and spectators are able to purchase a meal for a small cost.
People come from far and near to participate. Some come to get a good time on our flat fast route, some come to test their abilities, and some come for a special time with friends and family. All proceeds stay local for the youth of Huron House. This is one of our largest annual fundraisers and helps ensure we are able to continue our work supporting youth mental health in Sarnia-Lambton. To learn more about Huron House, visit our website at www.hhbh.ca.
If you are unable to join us and would like to participate virtually, we continue to have that option available, just scroll down to 'virtual participant' and you'll be asked before checkout what distance you plan to complete.
Registration fees
Jr. Adrenaline Trail
Closed
Children 4 - 10, with a parent present. The children complete a series of activities both physical and creative. Runs from 8:30-10.
---
A volunteer aid to a registered athlete in need of assistance
---
5K Timed Run
Closed
Online registration closed
---
5K Walk
Closed
Online registration closed
---
7K Bike or Skate
Closed
Online registration closed
---
10K Timed Race
Closed
Online registration closed
---
10K Timed Race - Father & Child
Closed
Online registration closed
---
20K Bike
Closed
Online registration closed
---
40K Bike
Closed
Online registration closed
---
Virtual Participant
Closed
Online registration closed
Can't make the race but still want to show your support and get the swag?
---
If you want to support this event but can't join us at Mike Weir Park on Father's Day, sign up as a virtual participant! You can participate whenever and wherever you want. You get a cotton t-shirt and can pick it up like all the other participants, or have it mailed if you choose to pay the additional shipping cost at checkout. Virtual participants are also eligible to be part of a team.
Jr. Adrenaline Trail takes place on-site near the dining tent and is open at no cost to children aged 4 - 10, with a parent present. The children complete a series of activities both physical and creative. The activities are challenging but not competitive. Activities vary from year to year. There is no fee, but if you register in advance it helps us anticipate how many to expect.
Volunteers needed, if you are a high school student looking for volunteer hours or someone that enjoys working with children, please contact us at 519-869-4000.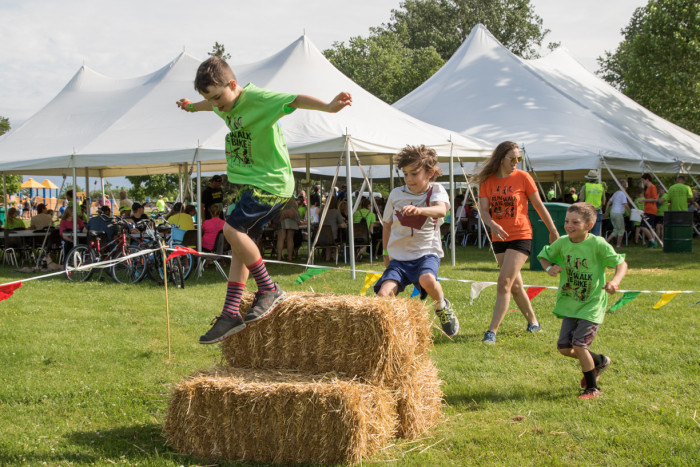 We encourage you to set up your fundraising page as an individual and/or team to collect donations online from your friends and family. If you'd prefer, click here for a printable pledge form.
More fundraising prizes are to be confirmed, but include gift cards to local businesses, free entry to next year's Run/Walk/Skate/Bike, and our top fundraiser will receive a travel package valued at over $1,000 including a VIA Rail voucher!
Fundraising prize categories include:
Top individual fundraiser
Top youth fundraiser (under 18)
Top fundraising team
All other participants who raise $150 or more will be entered into a prize draw.
To be eligible for prizes, funds must be submitted before the event begins, and you must be present to win.
It's fun to be part of a group of family, friends or co-workers, and we encourage you to sign up as a team. We've made it easy for group members in all categories to benefit from a team discount. Teams of four or more registering at the same time will receive a discount of 6.5%. ***** The Race Roster platform requires team members to register at least four members at the same time to receive the discount. *****
Hints for successful team registration:
VERY IMPORTANT: Register all team members before hitting the 'continue' button at the bottom of the page. Once that button is pressed you cannot return to modify participants.
Have participant personal information handy as data is lost if the program times out after 15 minutes of inactivity.
If you are a large team/family, consider registering members in groups of four or five at a time.
Participants registering in events that have no fee are not included in team total for discount purposes.
Remote Runners do receive a t-shirt and can be part of a team.
Have your team name printed on your tshirts (shirt back); option available until Mother's Day (May 8).
We are delighted to offer team t-shirts for teams of four or more which register by Mother's Day (Sunday, May 8). For $2 per shirt the team name will be printed on the shirt back. This option is also available to Remote Runners who are part of the team!
Kit pickup will be at Lambton Mall outside Sport Chek on Friday June 17 from 6pm-8pm, and Saturday June 18 from 12pm-4pm.
A pancake and sausage breakfast is included for all paid participants and volunteers, from 8:30 am to 10:30 am
Additional breakfasts are available for $5.00 each for spectators. When purchased along with your registration, spectator breakfast vouchers will be added to your participant kit.
All routes begin and end in Mike Weir Park. The routes are flat and scenic, and loop along the lake and through residential streets of Bright's Grove. Water stations along the way are manned by volunteers. There are both signs and volunteer route marshals to direct you along your route.
Reminder: All cyclists are required to wear a helmet

Thank You to our sponsors
Title Sponsor
Major Sponsors
| | | |
| --- | --- | --- |
| | | |
Event Sponsors
Event schedule
June 17 6:00 p.m. EDT - Kit Pickup and Registration - Lambton Mall
June 17 10:00 p.m. EDT - Online registration ends
June 18 12:00 p.m. EDT - Kit Pickup and Registration - Lambton Mall
June 19 7:00 a.m. EDT - Kit Pickup - Mike Weir Park PLEASE NOTE WE DO NOT OFFER RACE DAY REGISTRATION
June 19 7:45 a.m. EDT - 40k Bike Start
June 19 7:50 a.m. EDT - 20k Bike Start
June 19 7:55 a.m. EDT - 7k Bike Start
June 19 8:00 a.m. EDT - 7k Skate Start
June 19 8:04 a.m. EDT - 10k Run Start
June 19 8:08 a.m. EDT - Assisted athletes and strollers - 5k and 10k
June 19 8:12 a.m. EDT - 5k Run Start
June 19 8:16 a.m. EDT - 5k Walk Start
June 19 8:30 a.m. EDT - Jr. Adrenaline Trail
June 19 8:30 a.m. EDT - Pancake Breakfast
Contact information
Event contact

Michelle Farrar